Gentle Like the Rain (A Heart's Design Novel)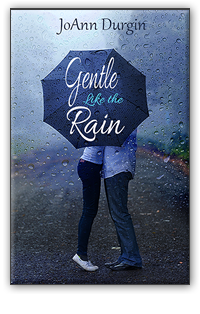 After Isabella Caccavale's Aunt Clara marched into her Hartford marketing firm and announced, "God told me to retire and sell my general store in Evergreen—to you," Isabella's life plunged into a tailspin. Fourteen months later, as the new owner of Mahoney's General Store, she's explaining the benefits of goat's milk soap to a customer on the phone while keeping an eye on a seven-year-old prankster intent on hauling the huge jar of dill pickles off the counter.
"Runaway" Boston lawyer Sidney Prescott is hard-driven, a man burdened by high expectations and a demanding family legacy. Reeling from personal loss, he roars into quaint little Evergreen, Maine, seeking answers to life's important questions. After all, escaping to the same town worked for his younger sister, Caroline, a few years before.
Sidney jump-starts Isabella's wounded heart, but it doesn't help when Aunt Clara marches into the store the day after his arrival and makes another startling prediction. Following the failure of a long-term relationship, Isabella vowed to God and herself that she'd never fall in love with another man who doesn't share her faith. Sidney represents everything she doesn't need in her life, but she's strongly drawn to him. Can she keep the lines from blurring between friendship and romance?
Spending time with his sister Caroline and her family, and crossing paths with townsfolk who impact his life in unforgettable ways, Sidney begins to question his work, his lifestyle, and his beliefs in a God he's never paid much attention to in the past. Could the Almighty have a specific purpose for Sidney's life? He's fallen for Isabella, but is there a way they can be together since he's not the man she needs?
Will Sidney take Isabella's heart with him when he returns to Boston? Join the journey in Gentle Like the Rain.